History
The Chess-Mitropacup was invented by the Austrian International Arbiter Gertrude Wagner. She and her husband organized many tournaments. Gertrude Wagner and Karl Wagner were known as the only married couple of arbiters. Together with Kurt Jungwirth, the president of the Austrian Chess Federation, they did many big improvements for chess in Austria and some international too.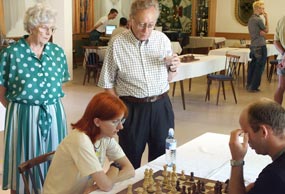 Foto: Gertrude Wagner and Kurt Jungwirth
The Idea to the Mitropacup came from Gertrude Wagner.  She wanted to create a tournament for teams in the middle of Europe like it was usual in soccer. Jungwirth realized the prospects of this idea and said: "Ok, let´s organize a mitropacup".
The first Mitropacup was held 1976 in Innsbruck. Germany, Austria, Jugoslavia, Switzerland, Italy and Luxembourg were pariticipating. Austria and Yugoslavia with two teams. Germany won this first tournament. The next twenty Mitropacups were organized by Gertrude Wagner. Till 2004 Jugoslavia won 7 tournaments, Germany 6, Hungary 3, 2 wins go to France, Croatia and Slovenia. Austria was successful in 1977.
10 Federations participate actually in the Mitropacup and share the organization. 2005 the Mitropacup comes back "home" and was held in Steinfeld/Neubrunn in Austria. A new era started in the history of this big tournament. The 24th Mitropacup was organized the first time for men and women.
Now, 2015 in Mayrhofen, there is a new record too. For the first time all ten federations participate with a team in the open section and one in the women section.
Archiv
All results from the Mitropacup since 1976
Download:
– Mitropacup_Archiv (1976-2015, Excel, all winners including Links to Chess-Results)
– All Games available from 1976-2015: PGN, CBV (ChessBase)
Chess-Results:
– Mitropacup Archiv Open Section (Overview)
– Mitropacup Archiv Women Section (Overview)

Mitropacup Archiv Open Section
| | | | | | | | |
| --- | --- | --- | --- | --- | --- | --- | --- |
| | Year | FED | City | 1st | 2nd | 3rd | Chess-Results |
| 1. | 1976 | AUT | Innsbruck | GER | SUI | YUG2 | Results |
| 2. | 1977 | GER | Bad Kohlgrub | AUT | SUI | FRA | Results |
| 3. | 1978 | ITA | Ciocco | YUG | ITA | GER | Results |
| 4. | 1979 | SUI | Bern | YUG | SUI | GER | Results |
| 5. | 1980 | YUG | Rovinj | GER | YUG | FRA | Results |
| 6. | 1981 | LUX | Luxembourg | YUG | ITA | SUI | Results |
| 7. | 1982 | FRA | Bourgoin | FRA | YUG | AUT | Results |
| 8. | 1983 | AUT | Lienz | YUG | GER | SUI | Results |
| 9. | 1984 | GER | Bad Lauterberg | GER | YUG | AUT | Results |
| 10. | 1985 | YUG | Arandjelovac | YUG | SUI | AUT | Results |
| 11. | 1987 | SUI | Mürren | GER | FRA | YUG | Results |
| 12. | 1988 | ITA | Aosta | YUG | GER | SUI | Results |
| 13. | 1990 | AUT | Leibnitz | GER | HUN | ITA | Results |
| 14. | 1991 | CSR | Brno | YUG | CSR | GER | Results |
| 15. | 1993 | GER | Bad Wörishofen | HUN | GER | SUI | Results |
| 16. | 1995 | HUN | Bükfürdö | HUN | NED | SLO | Results |
| 17. | 1997 | ITA | Montecatini Terme | SLO | CRO | HUN | Results |
| 18. | 1998 | SLO | Portorož | CRO | CZE | SLO | Results |
| 19. | 1999 | SUI | Baden | HUN | SUI | CRO | Results |
| 20. | 2000 | FRA | Charleville-Mézières | FRA | HUN | CRO | Results |
| 21. | 2002 | GER | Leipzig | SLO | GER | HUN | Results |
| 22. | 2003 | ITA | Pula | GER | CZE | SLO | Results |
| 23. | 2004 | SVK | Zemplínska Šírava | CRO | SVK | SLO | Results |
| 24. | 2005 | AUT | Steinbrunn | SLO | CRO | SVK | Results |
| 25. | 2006 | CZE | Brno | HUN | CZE | CRO | Results |
| 26. | 2007 | HUN | Szeged | FRA | ITA | GER | Results |
| 27. | 2008 | ITA | Olbia | CRO | HUN | CZE | Results |
| 28. | 2009 | SLO | Rogaška Slatina | CRO | ITA | HUN | Results |
| 29. | 2010 | SUI | Chur | ITA | HUN | SUI | Results |
| 30. | 2011 | FRA | Merlimont | GER | ITA | AUT | Results |
| 31. | 2012 | CRO | Šibenik | HUN | SLO | CRO | Results |
| 32. | 2013 | GER | Meissen | CRO | GER | CZE | Results |
| 33. | 2014 | SVK | Ružomberok | HUN | GER | SVK | Results |
| 34. | 2015 | AUT | Mayrhofen |  AUT |  SVK |  GER | Results |
Mitropacup Archiv Women Section

| | | | | | | | |
| --- | --- | --- | --- | --- | --- | --- | --- |
| | Year | FED | City | 1st | 2nd | 3rd | Chess-Results |
| 1. | 2002 | | Saint Vincent | SLO | FRA | GER | Results |
| 2. | 2005 | AUT | Steinbrunn | SLO | CZE | SVK | Results |
| 3. | 2006 | CZE | Brno | SLO | GER | CRO | Results |
| 4. | 2007 | HUN | Szeged | HUN | SLO | SVK | Results |
| 5. | 2008 | ITA | Olbia | ITA | GER | HUN | Results |
| 6. | 2009 | SLO | Rogaška Slatina | SLO | SLO2 | ITA | Results |
| 7. | 2010 | SUI | Chur | ITA | SLO | HUN | Results |
| 8. | 2011 | FRA | Merlimont | ITA | GER | HUN | Results |
| 9. | 2012 | CRO | Šibenik | GER | SLO | ITA | Results |
| 10. | 2013 | GER | Meissen | SVK | GER | ITA | Results |
| 11. | 2014 | SVK | Ružomberok | ITA | GER | AUT | Results |
| 12. | 2015 | AUT | Mayrhofen |  HUN | ITA |  SVK | Results |