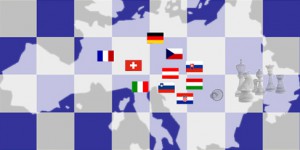 Dear chessfriends,
welcome to the Mitropacup 2015. The Event will take place in the Congress Centre from Mayrhofen Zillertal (Austria) from 14th to 22nd June 2015.
We are happy that all ten Mitropacup Federations will participate. All games will be broadcasted live in the Internet. Results and games will be published on Chess-Results immediately after each round. Furthermore we will offer photo-galeries during the tournament.
We hope that the chess family enjoys our services from the Mitropacup 2015.